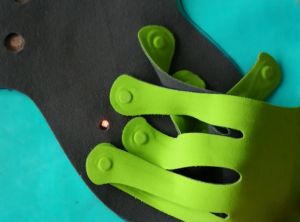 Ttorch – E-Textiles wearable light toy
Hey, here comes Jeffy!
I am an e-textile octopus, living in a little e-textile world. I can be your light through the night, on travel or at home, and you can even explore some electronics with me on my deep sea blanket.
The kit consists of of a the octopus Jeffy, a sea blanket and battery pouch. In all parts, electronic textiles are integrated and can be used as a part of electronic circuit to make for example an LED light up or play with RGB colors. The octopus can be connected to a wearable battery pouch to play inside or outside, and simply be your personal nightlight.

We added an extra value by using the concept of STEAM as parameters for the target audience: little people from age 4-8. With the kit, children get in touch with e-textiles and learn basics about simple electronic circuits.
We made the soft torch a toy with several contexts of use, outside playing, educational in pre-schools or at home and also being a companion as a night light.
The aim is to use sustainable ways if e-textiles production to create a product that is easy to recycle.